Dear Manta Ray families,
VPSU is trying to put together an abbreviated summer swim season. This plan is of course contingent upon a million decisions that we do not control. Practices and meets will have to look a little different.
No one is exactly sure what all the specifics are going to look like. We plan on practicing with whatever safety measures are necessary to keep our team healthy. The season will probably start June 22. We will not be able to accommodate non-swimmers this season.
The first thing we need is a roster – to know how many people intend to participate so that we know if we expect to meet our minimum requirements. This is what I need from you: If you intend to have
your children swim with the Manta Rays this summer, register them now (before June 1.) We are not
collecting any money at this time. We are not making any guarantees at this time.
Registration is open on our website wcpmantarays.swimtopia.com. We are still welcoming new
members, so invite your friends. The last step in the registration process is to choose your method of payment. Cash/check will be the only option given, but we are NOT collecting any money at this time. Click on it so that your registration can be completed. We are really just interested in seeing how many people are committed to participating.
Email or text me with any questions. I do not have all the answers right now, but if I can find out what you need to know, or help you decide what is best for your family, I will.
-Jen, Swim Team President
***************************************************************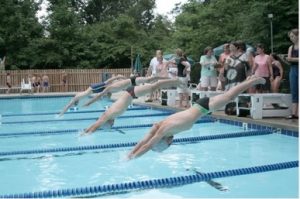 Thank you for your interest! The Williamsburg Community Manta Rays swim team is open to Williamsburg Community Pool members 18 and under who are able to swim 25 meters.
---
• Team Registration Forms  
• Meets and Practice Calendar
• Swim Team News
Email for more information: mantarays@williamsburgcommunitypool.org
Swim Team FAQs
How well does my child have to swim to join the team?
All children need to be willing to learn in order to join the team. We have excellent coaches who will teach your child to swim. In order to swim in a meet, swimmers need to be able to swim the length of the pool without touching the bottom or pulling themselves on the lane ropes.
How much time does it take?
Practice is daily.  Meets are typically once a week and last a few hours.  Important:  All swimmers are expected to attend practice. Inclement weather or other unexpected events may cause the practice to be canceled.
May 28 – June 13
Daily After School Practice Starts
3:30 – 4:30     13-18 years old
4:30 – 5:30     9 – 12 years old
5:30 – 6:00     8  and under

Friday, June 14
Daily Morning Practice Starts
8:00 – 8:30      6 and under
8:30 – 9:00      7 and 8 years old
9:00 – 10:00    9 – 12 years old
10:00 – 11:00    13 – 18 years old

Meet Day Practice Schedule
8:30 – 9:00       9 – 18 years old
9:00 – 9:30       8 and UNDER

9:30 – 10:00    Coach talk
10:00 – 10:30  Buddy Breakfast

Home Meets – Swimmers at pool at 4:00
Away Meets – Swimmers at pool at 5:00
Swim meets begin at 6:00
What is required of the parents?
• Fundraising
2 mandatory team fundraising events.  More info to come.
• Meets
Meets require the participation of swimmers AND parents.  Each family is required to help at each meet to fulfill a variety of jobs.  Aside from timing, several people are needed for various official positions, which require a minimal amount of training. Are you interested in becoming a meet referee, meet director, scorekeeper, or a stroke and turn judge? Please make sure to get training and certification ahead of the season's start. There are several opportunities; VPSU official clinics are listed on the VPSU web site.  We are required to have all of these positions filled or we aren't able to host meets.
• Concessions
Each family is expected to sign up to donate an item for the concession stand at each home meet, to include ready-to-sell baked goodies, salads, etc., and one case of soda or water per season.
What do the swim team dues include?
Team dues include VPSU membership, VPSU insurance, daily instruction, stroke clinics, team t-shirt, latex swim cap, and an end-of-season award for each swimmer.
Swim Suits are not included. We have a custom suit that can be ordered at agonswim.com. We encourage swimmers to purchase the team suit, but it is not required. We ask that you consider a plain black or purple suit if you are not wearing the custom team suit.
How much does it cost?
Dues  – Swim team DUES are due by the first meet.
Swimmer #1 $78.00
Swimmer #2 $68.00
Swimmer #3 $58.00
Any additional Swimmers $23.00
Credit Cards are accepted.  If you recruit a new swimmer to the team you will receive half off of the fees for one child.
Note: Team dues are in addition to the Community Pool membership fee. All pool memberships and swim team dues MUST be paid in FULL before a child can compete. This is a VPSU regulation, and there can be no exceptions.
---
Pay Swim Team Dues Online
When you register your swimmer, you will be lead through a sign-up form, a medical form, and you will have the ability to pay dues online.